For fans of the Twilight series, why not a themed wedding? Very romantic and original, fairytale and surreal.
The love story of Bella and Edward can be a fantasy, but you can recreate their cinematic wedding in the fairy tale of your real life!
Their wedding was one of the most anticipated weddings on the big screen.
Fans were eager to take a peek at what the wedding stylist was Tammy Polatsek had created for this important scene.
With flowers cascading from the trees, wooden benches for seating guests, this was the scene of the romantic wedding for excellence.
Use these tips to make your Twilight style wedding of Bella and Edward …
Fresh flowers at will
What are the flowers in the wedding of Bella and Edward?
Forget roses and orchids. The flower par excellence here is the white wisteria, which acts as a waterfall on the heads of the guests. It is an uncommon variety of wisteria, in Italy we find the Wisteria Sinesis wisteria more often, the rustic Chinese one with squat purple clusters that frame the gates of the houses. The wisteria that we see in Twilight is the delicate Japanese white wisteria, called Wisteria Floribunda long white.
Use lots of whites and lots of greens like ferns and touches of moss.
For the film they used white Japanese wisteria, white lilacs and buttercups, in addition to stones, ferns and moss.
"We didn't want the typical rose / hydrangea combination. It was too obvious", sostiene Polatsek.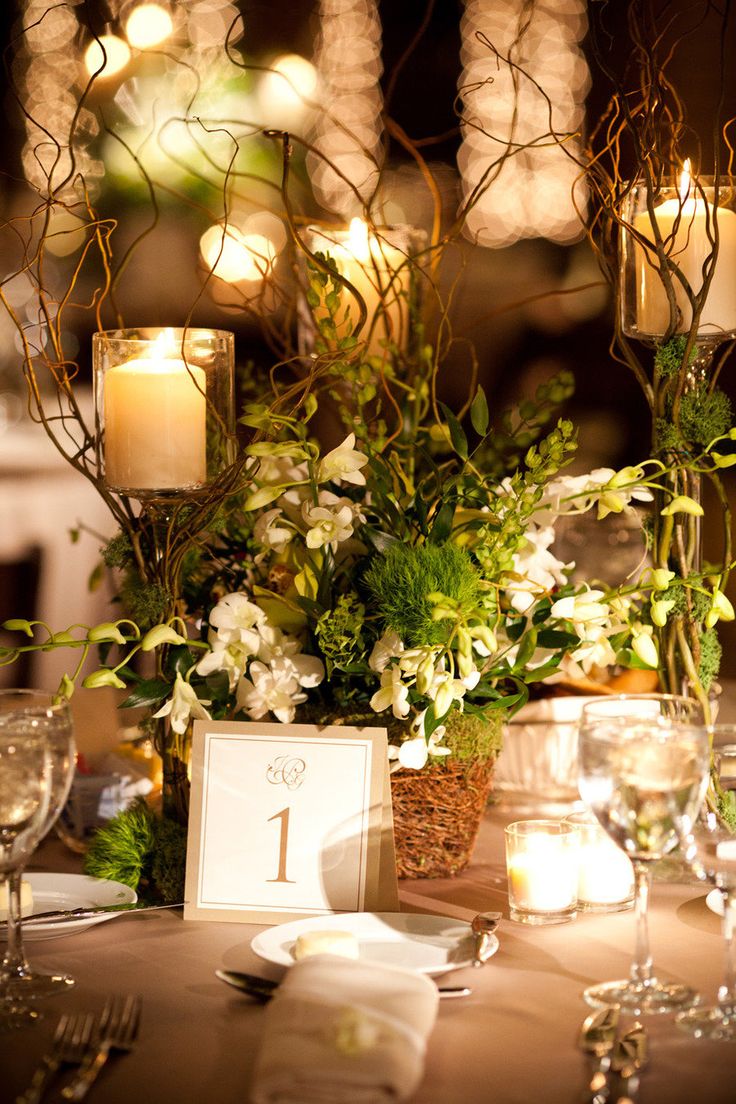 The key to obtaining your centerpieces as in Twilight is to make them seem to grow and come out of the table and this is achieved by adding moss and ferns to the base of the floral arrangements to hide the vases used.
All in wood
Wooden tables, wooden dessert displays, vintage wooden chairs and benches, wooden arch, etc..
So be sure to rent vintage tables and chairs and don't be afraid to mix and match!
Don't forget the most important piece: the bow!
Buy it or build it yourself, but be sure to use plenty of fresh flowers.
Details: decorations
Invitations
Only natural colors…
Use natural colors ranging from color green with accents of off white and brown and a touch of plum.
Choose a moss green tablecloth, preferably with texture.
Vintage style wedding dress
The wedding dress in the film was designed by Carolina Hererra.
This is an imitation of Alfred Angelo.
Even if you don't find it in stores anymore, the key to getting Bella's flawless look is to find a classic dress, but enveloping and long to the floor.
The dress is simple and elegant with just a touch of lace, but otherwise not decorated.
Let the dress speak for itself and keep your jewelry to a minimum.
Jewelry and accessories
L' Bella's engagement ring is unique. Even if you have an engagement ring, you can buy an imitation to beautify your right hand.
Hair and veil
You can find this hair comb on the site Aliexpress.
It must be something vintage and it can also be yours "something old!"
Shoes
There are many shoes that they imitate in the shops.
These crystal beaded satin shoes were designed by Manolo Blanik and are priced high $ 1.295.
Get a much less expensive look by buying a pair of white satin pumps at moderate prices and buy the shoe clips to add details.
Location
If you don't live near a forest, you can recreate the wedding in a romantic private estate.
We recommend that you find a background with many trees.
The weeping willow branches emulate the cascading flowers found in the scene.
The cake
Hair and makeup
Bella's hair was soft and thin with braids that gathered at the bottom
This tutorial will give you an idea of ​​how to recreate Bella's makeup.
Bella's makeup in the film was created by the makeup artist Stacey Panepinto.